AMB Animation Academy Live Stream Library
The AMB Animation Academy Live Stream Library houses the Previous AMB Animation Academy Live Streams and is updated on a constant basis with every new Stream. Members can enjoy the streams and catch up on any that they might have missed. You can Join the AMB Animation Academy Live Stream Library by clicking the link.
Open Video Animation Tutorial Library
I created these Animation Tutorials for your personal use and benefit and shared them on popular Social media platforms at no cost other than that of my own time. The stuff I'm sharing with you is of a far higher standard than most paid degree courses out there that don't specialise in traditional animation and it satisfies me greatly to know that you can learn to be a better animator than most of the lecturers on such courses who claim themselves to be animation experts. You can achieve this standard by simply investing your time in viewing these free videos.
The only favour I ask from you is that you enjoy and share the wealth of knowledge found here with anyone whom you think will benefit from it.
AMB
You can Visit the Open Video Library by clicking the link or scrolling through the preview carousel below and selecting your desired topic
AMB BLOG
Take a look at what AMB has been up to and catch up on past Academy talks, lectures, live streams and all things AMB Animation Academy related!
Real Animator Training – How To Maintain Form & Volume
In This Extract of the AMB Real Animator Training Library I demonstrate how the proficient 2d Character Animator must manage
Read more.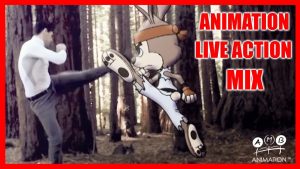 How I Mixed Traditional Animation with Live Action
I began my animation career at the age of eight after watching Walt Disney's the Sword in the stone. A
Read more.
2D Animation Tutorial – How to Animate Dialogue
In this extract from the AMB Animation Live stream library you are treated to a section the 5th part of
Read more.